SK Rapid-captain Schwab and central back Dibon in conversation about public procurement law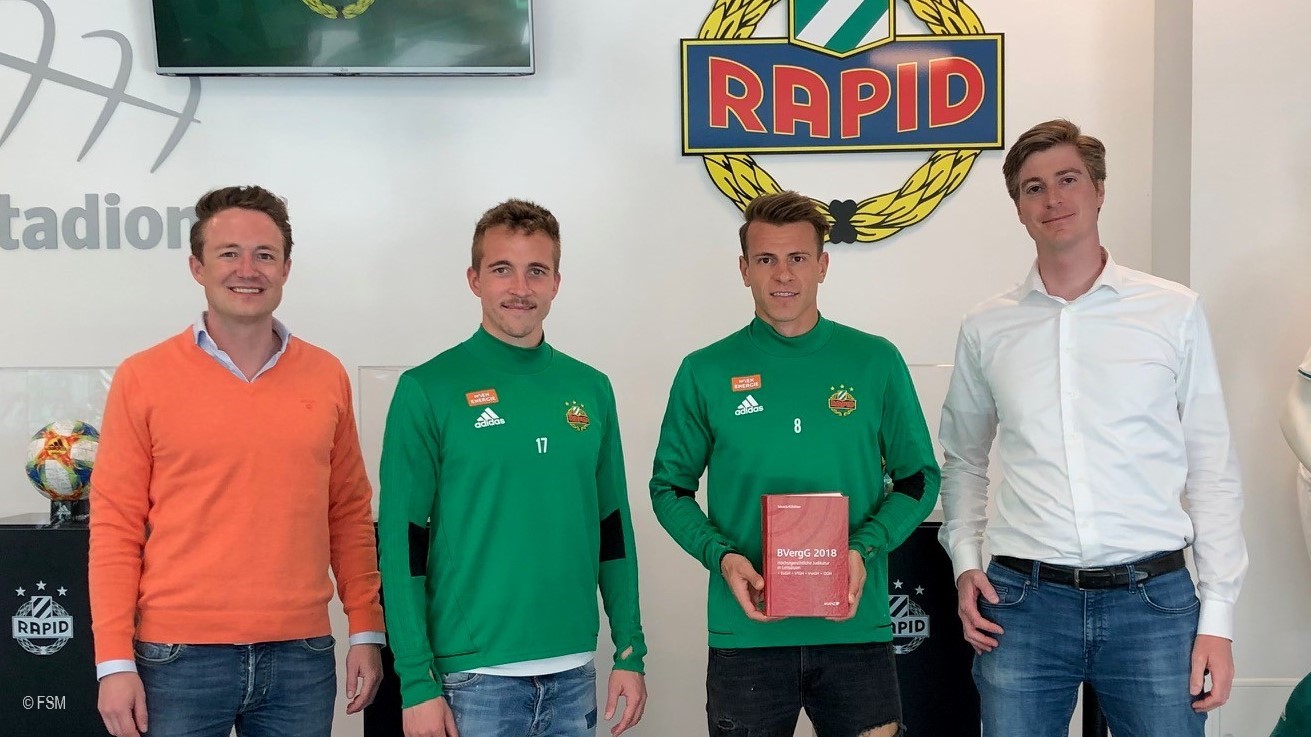 When it comes to real estate law issues, numerous SK-Rapid football players happily show their faces at FSM. And what do football players think about the Austrian public procurement law and the daily routine of public procurement lawyers? How do they set up their procurements? Karlheinz Moick and Sebastian Feuchtmüller have conducted an interview with Stefan Schwab and Christian Dibon. Only this much beforehand: Those fellers have it in them!
FSM: Stefan, Christopher, you both have larger purchases every now and then. Could you imagine to define your technical requirements in detail in advance for the purchase of a new car, then to obtain offers in a formalized, for several months ongoing procedure, testing those in e.g. with regard to environmental consequences (§ 93 BVergG 2018) and sharing your motives for your award decision transparently with all bidders so that they have the opportunity for legal appeal?
Stefan Schwab: Personally, I couldn't imagine such a procedure. First of all, technical requirements for a car are not so important to me that I would bother to compare all car types and brands, where which brand has the most technical advantages. Secondly, of course, the waiting time is simply way too long. Therefore, that would be off the table for me, especially regarding a private car.
Christopher Dibon: As a private person, I agree. I buy the car that I like. The procedure is just too long. I don't want to worry about that half a year or three quarters of a year in advance. New cars will already be released by then. In addition, someone has to write an offer and has enough work with that alone.
Stefan Schwab: Some brands of cars are already known from parents or friends. You can tell which brand is simply more susceptible and which is less. I think you already have quite good knowledge. The car has to look good and the price-performance ratio has to be right.
Karlheinz Moick shows Stefan Schwab the Moick/Gföhler Legal Commentary on the BVergG 2018: I wrote this book for the daily practice of public procurement lawyers. Spontaneously, what do you think when you leaf through this book?
Christopher Dibon (scrolls through the book): Whoever writes this cannot be quite normal. I couldn't imagine myself writing a book. The book simply has many pages and is on top of that written in small letters. Nevertheless, I take off my hat. When it comes to such things, I prefer to hire a lawyer who knows what to do, instead of looking into the book and reading something myself.
Stefan Schwab: I also see you as an absolute freak. Naturally, that's your field, but to look through all those judicial decisions, summarizing and analysing them, that's just unbelievable. However, to be a freak is something positive for me. You probably also see us as freaks because we watch football matches every day. And you just sit down and write on your book in the evening.
FSM: What are you reading right now?
Christopher Dibon: I'm reading several books on personality development right now. I think a lot of people don't do what they like to do. They just work to earn money. As football players, we are in the fortunate position of being able to do what we enjoy and make a good living out of it. But I don't want to do this anything for the rest of my life that I don't want. Especially in my job I really want to have fun. Of course, there will be days when it's not funny, but overall it has to fit. I'm very interested in the topic and I'm reading a lot about it right now, e.g. The Café on the Edge of the World. I also read many biographies of athletes and people who have achieved great things (note: Christopher takes two books out of his pocket with a wink).
Stefan Schwab: I especially read a lot during my vacation. In the past I read a lot of biographies about sportsmen or other personalities which impressed me or from whom I wanted to or want to learn something. In my everyday life I rather read magazines, especially football magazines. By now, I have to learn a thing or two, that's why I currently read a general business management book.
FSM: Could you imagine an office job at which you would e.g. have to examine tender offers, eliminate tenderers, etc on a daily Basis?
Stefan Schwab: I personally can't imagine it, because I am a very sport driven person and simply like to do something in sports. In a sporty and responsible position, office work is of course also part of it and if that's two to three hours a day, then it's okay. But I can't imagine sitting in the office from 8:00 a.m. to 5:00 p.m. and working things off.
Christopher Dibon: We are quite similar in that respect. I also think that I wouldn't have the nerves for that. In this line-up, I also believe that someday that will fit for me. If you are just a coach, then you won't sit in front of your laptop that much. However, a mixture of sports and administration is going to be among the workload and variety is going to make a difference. But I can't imagine being truly and only working in front of your computer all day.
FSM: You have to deal professionally with the most different people. From trainers, Rapid Wien management and journalists to flight attendants. What is your impression of us procurement lawyers?
Christopher Dibon: I must honestly say that I know few public procurement lawyers, so it is difficult for me to judge that. In general, I think that lawyers often work with ties and tend to talk very posh. I like to talk with people whom I don't have to be very formal with. I think it's easier to talk and in the end the result is better. That's why it's easier to talk to Benni (Anm: Benedikt Stockert, FSM) about a case, because I know he understands me the way I am now. But maybe it's also because I often had to deal with older generations of lawyers. I think there are also a lot of great, simple lawyers who like doing their job and don't see themselves as something better.
Stefan Schwab (to Christopher Dibon): I believe, lawyers have a high recognition in the public perception. I see them as very serious people. At the first meeting one often has a wrong impression of lawyers. My experience has been that there are always nice and friendly people and that perhaps at first this doesn't seem so because of the legal matter. But I have always had good experiences with the lawyers I have met so far. Of course, they often seem different and stricter to the outside world.
FSM: Finally, a short word-rap: Forgive or retaliate?
Stefan Schwab: Forgive
FSM: Missed Opportunities:
Stefan Schwab: They happen. They lead to victory and defeat.
FSM: Feuchtmüller Stockert Moick:
Stefan Schwab: Interesting trio which is very open and friendly.
Christopher Dibon: Nice combination of personalities
FSM: Saison 2019/2020
Christopher Dibon: Hopefully assured Europe League participation. Again international and in the league clearly better than 2018/2019.
Competition: Public procurement law meets SK-Rapid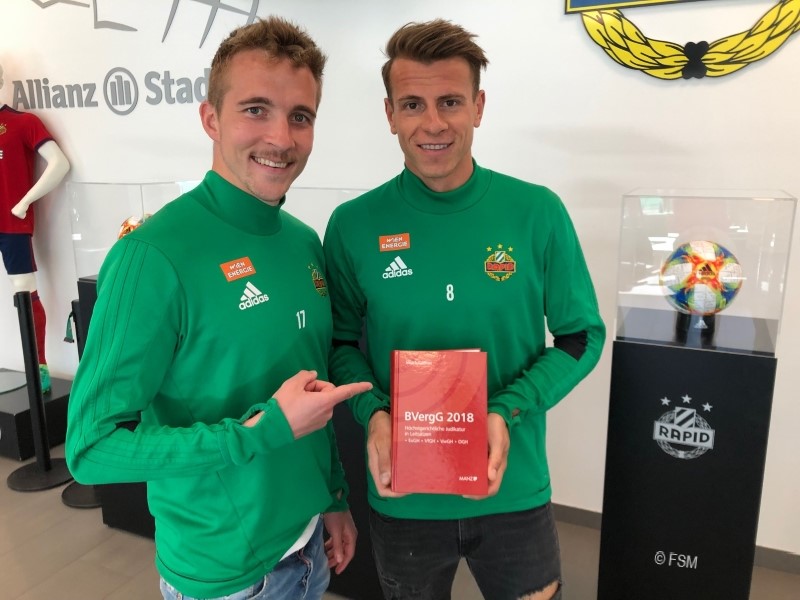 Answer the following question and win a copy of the Moick/Gföhler commentary about BVergG 2018 signed by Stefan Schwab and Christopher Dibon:
Which car company received the surcharge in Stefan Schwab's last procurement of a Vehicle? (a) Audi (b) Daihatsu or (c) Bugatti 
The winner of all correct answers sent to UpdateVergabe@fsm.law will be informed by e-mail.